2024 workshop dates:
CREATE group coaching online – starts January
Bamford in Cotswolds – February … new half day workshop, details coming soon
CREATE – Group coaching for new and fledgling creative businesses
Many people have said they'd love to have the chance to join a positive group and work on their business in a supported environment.
CREATE is for you if:
you are a woman who wants to set up, or is just starting to set up, a new creative business
 you love the energy of a group, and feel inspired to come together with other small business owners who are in a similar situation
you want support to learn what to do so you know you are on the path to success
At the end of the 12 weeks, you will leave with a clear strategy and roadmap for your new or fledgling business. You'll know who your target customers are, you'll understand them and map out the customer journey, know how to bring people into your sales pipeline, move them through to sale with confidence. All the while, you'll learn how to manage your own motivation levels and mindset to stay focused, energised, passionate about what you do while being strategic, savvy and astute.
Register your interest for the next January 2024 CREATE group.
PAST Workshop: AT BAMFORD, COTSWOLDS

The Modern Midlife Manual with Susannah Taylor
Join us for an uplifting and insightful morning in February 2024 Bamford, Cotswolds where we will be sharing wellness, life coaching and beauty tips and techniques to make midlife your best years yet.
Susannah Taylor has been a beauty and wellness expert for over 20 years and knows only too well that there is no greater hormone shift than that at midlife. She will be talking about how to adapt and upgrade your beauty and wellness regime during the perimenopause, menopause and beyond to ensure you are your most radiant self. From skincare to makeup, and exercise, Susannah will take you through her top-to-toe masterclass in essential midlife self-care.
Experienced Leadership and Life Coach, Caroline Jory will share coaching techniques that put a zing back into your step and support you at this extraordinary moment of life we call that we call midlife. It's easy to get lost in the fog of perimenopause and menopause but it's a time of life that offers a unique opportunity to refind your voice, to make happen those things you've been putting off or waiting for your whole life, and to get in the best mindset to navigate family life and all its changes as children, if you have them, head into their teens.
With soul and humour, the Modern Midlife Manual will be a thought provoking, informative and fun morning with live coaching, interaction and expert advice. We guarantee you to leave better equipped to get the most from this pivotal stage of life.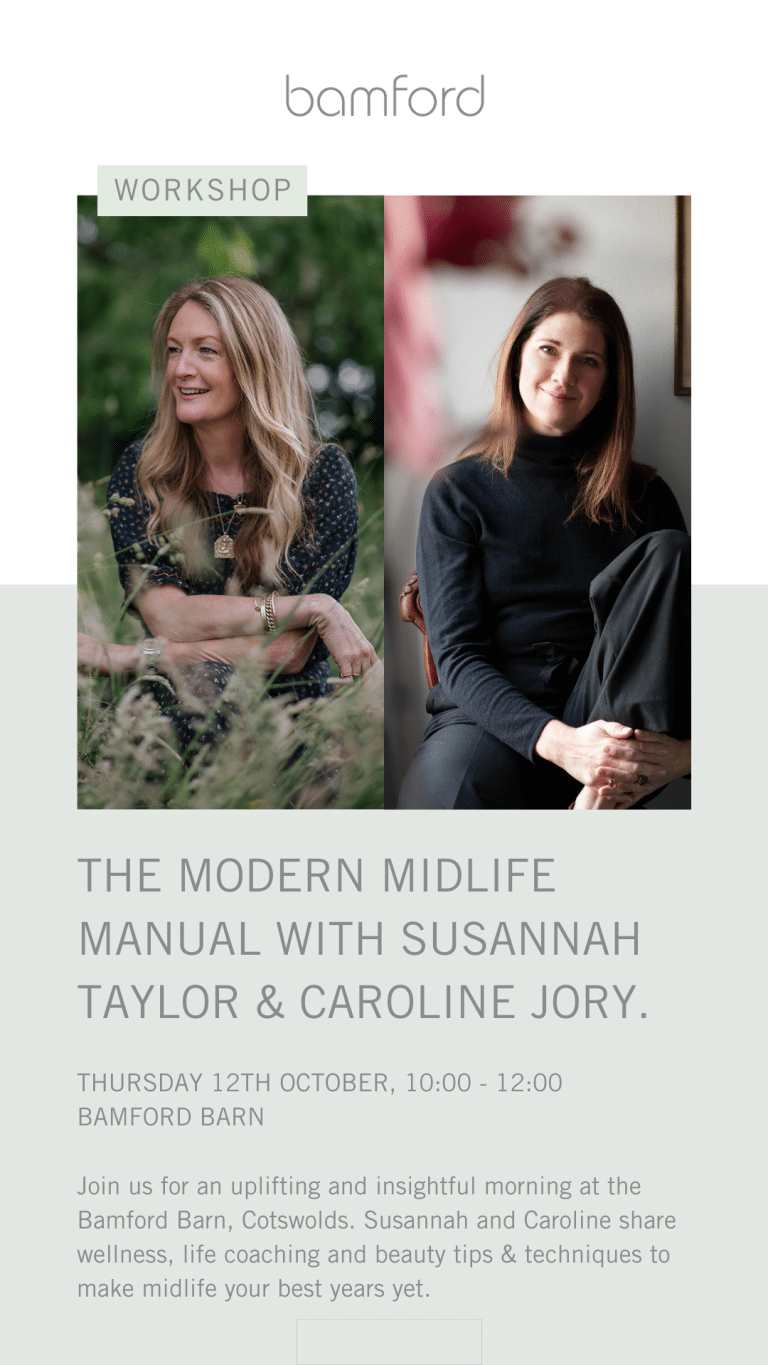 PAST GROUP WORKSHOP 
LIVING OUT LOUD
Group workshop for the Autumn 2023. Tuesday 17th October, 630pm
What would it be like to get clear on the next stage of your life, to feel excited and be filled with purpose for the path ahead?
 The what now? What next? Questions are powerful in midlife. We want to make the second act of our life as fulfilling and meaningful as it can be. Midlife offers a unique opportunity to find your voice and focus on what's important. It can feel like now or never.
 Added to this, these are times in life that bring up a lot of stuff.
 Whether you're turning 40 or 50 with all the reflection that goes with that, or you are at a crossroads brought on by a big shift such as a relationship breakdown, kids leaving home, falling out of love with your work and needing a change, … There's no going around these moments, you have to go through them. And you want to come out the other side feeling confident, focused, fulfilled, and ready to pursue what you feel you were made to do.
 Trouble is, we can arrive at the age of 40 or 50, or go through massive life events, and end up not really knowing who we are, let alone what we want. It can feel intangible. We often lack confidence to try new things or lack the ability to work out what those things should be.
 When I retrained a Leadership and Life Coach, after a 25 year award winning marketing career, I had to dig deep. I didn't have a ton of money saved, as a solo parent no one was going to prop up the family finances. But I was determined that I would find my way through. I remember thinking to myself I'm going to choose happiness, and I'm going to find it.
 Fast forward a decade and I am passionate about inspiring and supporting others to navigate major change.
 But where do you start? The what now, what next rings loudly for many and they feel lost.
 So I have created a new course, Living Out Loud, to help you take those steps. It's the foundation you need to get unstuck, find your North Star and get real clarity on what it is you want, what your skills and strengths are, and how to make the next chapter of life as fulfilling as it can be.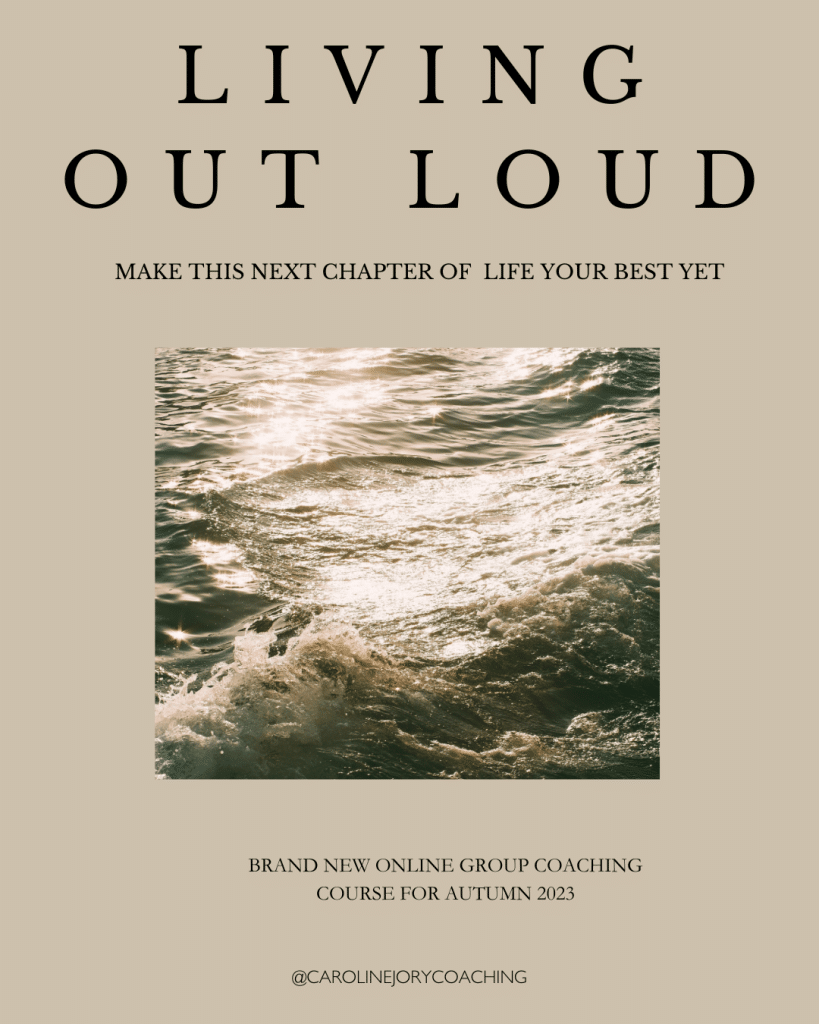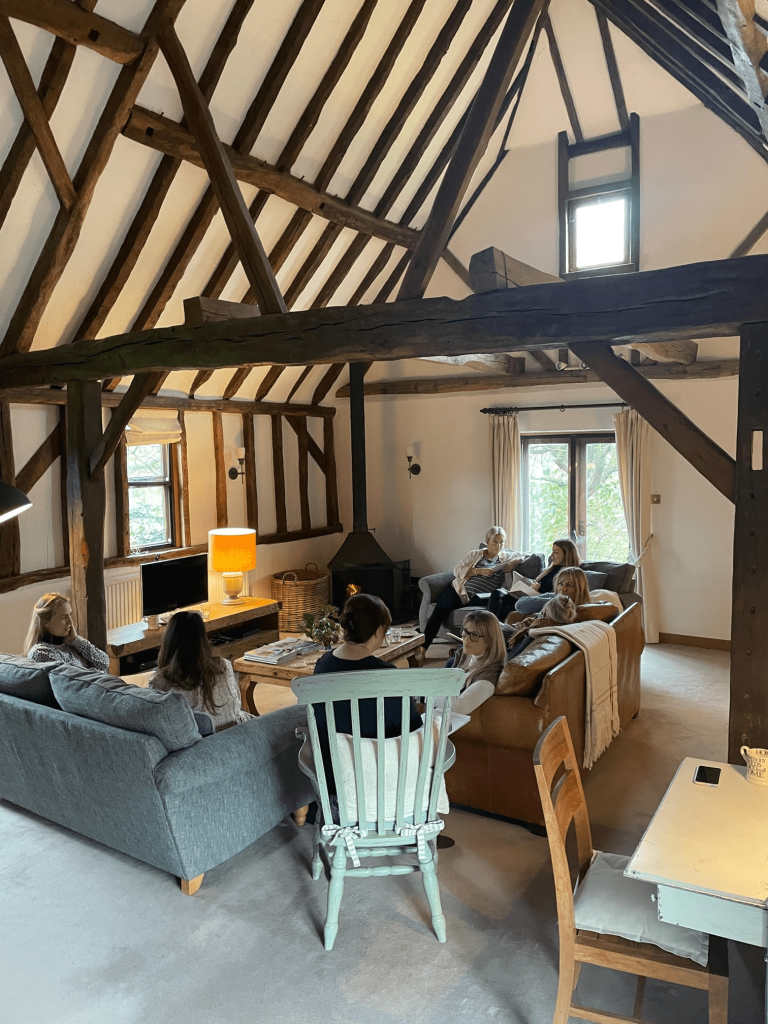 Journey through journaling
Journey through Journaling 3.5 hour in person masterclass is the key to unlocking your potential to create the life you really want.
What if you knew there was a tool you could use that's free and that will transform the relationship you have with yourself and what you expect, and ask for, from life? A tool that will become the foundation of your personal growth and transformation.
Learn to use Journaling as a powerful transformational tool in this deep dive masterclass. I will share the techniques I've learned over decades of journal writing and research to support you to experience the same level of transformation.
The masterclass is held in a beautiful renovated granary barn in the pretty Sussex village of Fulking, just 10 minutes drive from Brighton & Hove.
Sold out – more events like this will be added throughout the year.
Beyond Coping, from surviving to thriving
Are you feeling worn out but no time to spend on self-care? Are you stuck yo-yoing between feeling ok and feeling close to burnout but without the time to make any changes?
This is not your average wellbeing course. I've written this in bite sized chunks packed with high value so you can fit it in around your life AND you won't spend ages in front of the computer but you will get the results.
If you're reading this, chances are you're ready to move beyond coping to a place of thriving. But maybe you don't know how to do it.
I've written this course for you. There are 5 modules, each between 10-20 minutes long.
These are tried and tested techniques I use with clients every day to support them to move from feeling grumpy, irritable, prone to over-reacting, making black and white decisions, unable to get the most from life to ready to live life to the full and enjoy it.
Learn more and buy now